Dancing Brushes: A Fresh Approach to Watercolor (Paperback)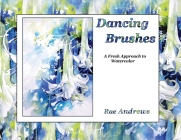 $32.95

Usually Ships in 3-7 Days
(This book cannot be returned.)
Description
---
As a teacher of watercolor painting for over 50 years, Rae Andrews has had the privilege of watching students grow in their artistic journeys. Many beginning artists are pushing to adopt a style before they learn the basics, such as drawing and color mixing. Rae doesn't believe any new artist should be in such a rush to develop a style. That will come over time and with practice. Rae is a colorist and loves design. Hence, her paintings tend to have a different look that often surprises the viewers. She's discovered that color and a dramatic choice of value help stimulate the eye and individualize her work.
This book contains 10 watercolor demonstrations that showcase the different approaches Rae uses in her paintings. She expects her students to experiment with their own color theory and compositional alternatives by drawing often and trying different subjects. Not every demonstration will resonate with every student, however, the many approaches and techniques that Rae has demonstrated should certainly give any artist more creative options to develop the look they want in their paintings.
Watercolor is such a spontaneous medium, full of surprises and sometimes messes, or 'stinkers', as Rae calls them. She advises students to explore the many exciting properties and find their way to keep that magical discovery alive.
Rae's motto is: "Dare to be different and above all, have fun "