Saving the Countryside: The Story of Beatrix Potter and Peter Rabbit (Hardcover)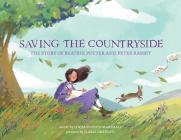 $17.99

Usually Ships in 7-11 Days
Description
---
World Magazine's Picture Book of the Year 2020

"Fans of Beatrix Potter will delight in this tribute to her dedication and talent, encapsulating a legacy that reaches far beyond the pages of her beloved books."-Foreword Reviews in a STARRED REVIEW

"Empowering and fresh."-School Library Journal

"The life of the British picture-book author and illustrator makes a serendipitous subject for an engaging and attractive picture book...A well-told tale that makes the life story of the renowned author accessible to children."-Kirkus Reviews

"Perhaps Peter Rabbit needs no introduction, but even children who know Beatrix Potter's name probably know little about her. This appealing picture book fills that gap.... Recommended for young Beatrix Potter fans."-Booklist

"In forthright language, this picture book biography recounts her boundary-breaking life as she grows from a nature-loving child with a menagerie of pets...into a successful artist and canny entrepreneur. An attractive introduction to an iconic creator."-Publisher's Weekly

"An exceptionally accurate portrait of Beatrix Potter told with humor and surprise. Beautifully done." Linda Lear, author of Beatrix Potter: A Life in Nature

Through she's universally known as the creator of The Tale of Peter Rabbit, Beatrix Potter did so much more. This is the true story about how she helped save the English countryside!

Growing up in London, Beatrix Potter felt the restraints of Victorian times. Girls didn't go to school and weren't expected to work. But she longed to do something important, something that truly mattered. As Beatrix spent her summers in the country and found inspiration in nature, it was through this passion that her creativity flourished.

There, she crafted The Tale of Peter Rabbit. She would eventually move to the countryside full-time, but developers sought to change the land. To save it, Beatrix used the money from the success of her books and bought acres and acres of land and farms to prevent the development of the countryside that both she and Peter Rabbit so cherished. Because of her efforts, it's been preserved just as she left it.

This beautiful picture book shines a light on Beatrix Potter's lesser-known history and her desire to do something for the greater good.
About the Author
---
Linda Elovitz Marshall grew up near Boston, graduated from Barnard College, and raised four children and a flock of sheep on a farm in the Hudson Valley of New York. She is the author of several books for young readers. Marshall lives with her family in Selkirk, New York.

Ilaria Urbinati is an illustrator who lives in Italy in a nice city near the mountains called Turin. Like Beatrix, she draws all the time with her computer and her watercolors (she loves them!), and she enjoys taking long walks in a nearby park. There, she meets squirrels and birds, and pets every dog and cat she comes across. She has no rabbit, but her dream is to live with a cat in a house full of books and paintings.
Praise For…
---
Fans of Beatrix Potter will delight in this tribute to her dedication and talent, encapsulating a legacy that reaches far beyond the pages of her beloved books.
— Foreword Reviews in a STARRED REVIEW

Growing up in an upper-class family in Victorian London, Potter was an observant and talented artist from a young age. When on vacation in the English countryside, she reveled in the freedom to enjoy animals and nature. Urbinati's able, Potter-inspired pen-and-watercolor spreads and vignettes show the development of the author's work through landscapes and facsimile pages of her books. Marshall's clear, engaging text relates how Potter was interested in mycology, but her ideas were rejected by the male scientific establishment, so she pursued book illustration. Initially finding no interest in her children's book among publishers, she self-published The Tale of Peter Rabbit. When that sold, a publisher became interested, and she wrote and published all the small-format children's books for which she is well known today. Potter took the precaution of copyrighting her character so that her creations would be protected. Realizing the countryside she loved was under threat from urbanization, she used her wealth to acquire several farms and saved much of the English Lake District through her land purchases, more than 4,000 acres of which she donated to the National Trust.A well-told tale that makes the life story of the renowned author accessible to children. (author's note, bibliography) (Picture book/biography. 7-10)
— Kirkus Reviews

Perhaps Peter Rabbit needs no introduction, but even children who know Beatrix Potter's name probably know little about her. This appealing picture book fills that gap, starting with her sheltered London childhood, glorious summers of freedom in the country, and hours spent drawing animals such as her pet rabbit, Benjamin Bouncer. As a young woman, Potter faced rejection for her scientific study of mushrooms, but she also wrote and illustrated The Tale of Peter Rabbit and 22 other books, which brought great acclaim. Once financially independent, she moved to a farm, married, and continued buying land to preserve the countryside she loved. Marshall simplifies Potter's story while including details of her upbringing in the Victorian era, the creation of her books, and her significant contribution to preserving England's Lake District. There's something fresh and beguiling about Urbinati's fluid illustrations. While somewhat idealized in their portrayal of Potter, they reflect the tone of the text and bring this gifted writer/illustrator and her surroundings to life on the page. Recommended for young Beatrix Potter fans.
— Booklist

Beatrix Potter's extraordinary life is introduced to a new generation of readers in this picture book biography. Marshall highlights not only Potter's career as a children's book illustrator and author but also her role as a trailblazing businesswoman, amateur scientist, and conservationist. In a time when women were not encouraged to have lives outside of the home, let alone run businesses, Potter paid to have the first copies of The Tale of Peter Rabbit published. She then merchandised her books through tea sets, games, and toys. Her ambitions didn't stop with children's books. Potter researched and illustrated an academic paper on how mushrooms reproduce and submitted it to scientists, only to have her work dismissed because she was a woman. Perhaps most remarkably, Potter was an ardent conservationist and purchased and then donated thousands of acres of farmland in England's Lake District to the National Trust. Urbinati's art provides a pleasant backdrop to the story line. End pages incorporate sketches of some of Potter's beloved characters. Source material and an author's note about Marshall's inspiration for the book are included in the back matter.

VERDICT A worthwhile addition to most collections, particularly those needing more biographies of innovative
women. Empowering and fresh.
— School Library Journal

Drawing delicately rendered bunnies was Beatrix Potter's unlikely path to financial independence and self-sufficiency in a time when women faced serious obstacles to both. In forthright language, this picture book biography recounts her boundary-breaking life as she grows from a nature-loving child with a menagerie of pets (including a rabbit, Benjamin Bouncer) into a successful artist and canny entrepreneur. After self-publishing The Tale of Peter Rabbit, she copyrighted her work and expanded the rabbit's world: "She also designed toys, games, and tea sets, and she put pictures of Peter Rabbit on them." With her earnings, she bought property-an unusual move for an unmarried woman-eventually acquiring multiple farms and bequeathing them to the U.K.'s National Trust to "save the countryside that inspired her books." Though Urbinati's detailed illustrations skew sweeter than Potter's own, they appreciably capture Potter's grit and determination, as well as the enduring charm of her artwork and the animal-filled, windswept countryside she drew. An attractive introduction to an iconic creator. Ages 4-8.
— Publisher's Weekly

An exceptionally accurate portrait of Beatrix Potter told with humor and surprise. Beautifully done.
— Linda Lear, author of Beatrix Potter: A Life in Nature