Dead End Gene Pool (Compact Disc)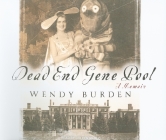 Summer '11 Reading Group List
---
"Burden's memoir of her branch of the family descended from Cornelius Vanderbilt is a delightful cautionary tale of the super rich who inherit a large fortune. The family's unraveling, erratic behavior and eccentricities make up a morbidly fascinating story."
— Avery Dickey, Inkwood Books, Tampa, FL
April 2010 Indie Next List
---
"Burden's memoir of her branch of the family descended from Cornelius Vanderbilt is a delightful cautionary tale of the super rich who inherit a large fortune. The family's unraveling, erratic behavior, and eccentricities make up a morbidly fascinating story."
— Avery Dickey, Inkwood Books, Tampa, FL
Description
---
For generations the Burdens were one of the wealthiest families in New York, thanks to the inherited fortune of Cornelius "The Commodore" Vanderbilt. By 1955, the year of Wendy Burden's birth, the Burdens had become a clan of overfunded, quirky and brainy, steadfastly chauvinistic, and ultimately doomed bluebloods on the verge of financial and moral decline-and were rarely seen not holding a drink. In Dead End Gene Pool, Wendy invites listeners to meet her tragically flawed family, including an uncle with a fondness for Hitler, a grandfather who believes you can never have enough household staff, and a remarkably flatulent grandmother. At the heart of the story is Wendy's glamorous and aloof mother, who, after her husband's suicide, travels the world in search of the perfect sea and ski tan, leaving her three children in the care of a chain-smoking Scottish nanny, Fifth Avenue grandparents, and an assorted cast of long-suffering household servants (who Wendy and her brothers love to terrorize). Rife with humor, heartbreak, family intrigue, and booze, Dead End Gene Pool offers a glimpse into the fascinating world of old money and gives truth to an old maxim: The rich are different.
About the Author
---
Wendy Burden, the great-great-great-granddaughter of Cornelius Vanderbilt, is a former illustrator, zookeeper, taxidermist, and owner and chef of the bistro Chez Wendy.

"AudioFile" Earphones Award winner Coleen Marlo has been nominated three times for an Audie Award, winning for "Snakewoman of Little Egypt" by Robert Hellenga. She has also been awarded three Listen-Up Awards from "Publishers Weekly," and "Publishers Weekly" named Coleen Audiobook Reader of the Year for 2010.
Praise For…
---
"Charles Addams meets Carrie Bradshaw in this honest, sardonic, and touching memoir." ---Jane Stanton Hitchcock, New York Times bestselling author of Social Crimes