50 Bible Stories Every Adult Should Know: Two-Volume Set (Hardcover)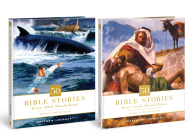 $49.99

SPECIAL ORDER...IF AVAILABLE
Description
---
Classic Bible Art and Powerful Bible Stories for Adults
Immerse yourself in the unique art and style of each story that these unique resources offer. Discover—and see—the Old and New Testaments in a fresh way through the beauty of 
50 Bible Stories Every Adult Should Know: Two-Volume Set
. This collection will ignite a new hunger to go deeper in God's Word as you learn about the lesser-known stories in the Bible and experience them through classic Bible art.
This combination of 50 classic favorites and poignant lesser-known stories holds relevance for devout believers and skeptics alike. Inside these pages, you'll uncover:
Easy-to-read stories featuring Bible text from reliable modern translations, along with brief introductions providing historical background and context.
Practical truths applicable to the busy, messy, and sometimes-turbulent lives of adults.
Quotes, tidbits, and asides related to the Bible, geography, literature, and pop culture.
Discover—and see—the Bible in a fresh way. Walk the ancient dusty paths, hear the battle cries, and marvel at the miraculous as you experience 
50 Bible Stories Every Adult Should Know
.  
About the Author
---
Matthew Lockhart spent over twenty-five years in leadership positions for religious education publishers including Group, Standard, and David C Cook, developing Bible study and educational resources used by a variety of denominations. Matt continues to write, curate Bible art, and develop publishing projects. He and his wife live in Colorado.