The Utter Zoo: An Alphabet (Hardcover)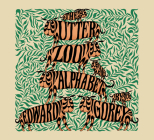 $14.95

Usually Ships in 4-7 Business Days
This book cannot be returned.
Description
---
Twenty-six curious creaturesfrom the fastidious Ampoo to the world's one and only Zotefill the pages of The Utter Zoo, an alphabet from the untamed imagination of Edward Gorey. The Boggerslosh, the Crunk, and the Dawbis; the Ippagoggy, the Jelbislup, and the Kwongdzu; the Scrug, the Twibbit, and the Ulpeach strange and wonderful zoomate displays its own primary characteristic, described in Gorey's inimitable, droll, rhyming couplets.
A writer and artist with an instantly recognizable style, Gorey (American, 19252000) created over one hundred works and was also a playwright, an award-winning set and costume designer, and the creator of the animated introduction to the PBS series Mystery! First published in 1967, The Utter Zoo is a favorite of Gorey fans, young and old alikeno matter how well they know their ABCs.